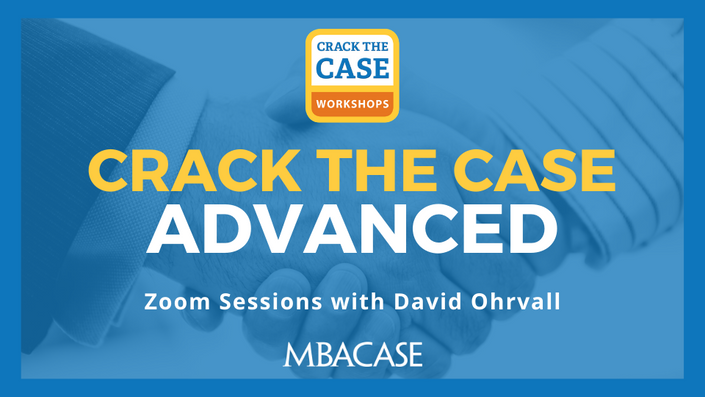 Crack the Case Advanced for INSEAD
Case Interview Masterclass with David Ohrvall
Learn advanced techniques for successful case interviews!
Join David Ohrvall, international trainer and author, for this engaging and interactive 2-hour Zoom training session.


The session will be offered four times over the weekend of Feb 22-23. Choose the time that works for you, or attend more than one!


Dates/Times
Saturday, Feb 22 @ 9:00 (SGT)
Saturday, Feb 22 @ 13:00 (CET) / 20:00 (SGT)
Saturday, Feb 22 @ 19:00 (CET)
Sunday, Feb 23 @ 13:00 (CET) / 20:00 (SGT)
You are also invited to David's Office Hours, a series of live Q&A sessions. Bring all your questions and get personalized help the weekend of March 7-8. Multiple sessions will be offered to accommodate your schedule.
Let's work together and get ready for your toughest interviews!
* Please make note of the time zones. We have scheduled times that work with both France (CET) and Singapore (SGT).
You'll also receive 3 months of free access to my online course, C4: Crack the Case Crash Course, when you sign up for CTC Advanced Zoom Training.
Your Instructor
I'm David Ohrvall, Founder of MBACASE and author of Crack the Case System.
In the last decade, I've trained over 70,000 students in my Crack the Case Workshops at top MBA programs like Wharton, HBS, Stanford, INSEAD and Chicago Booth.
Through my online courses, you can learn the techniques and insights that have helped over 1,300 of my private coaching clients achieve success. I'll show you exactly what to do (and what NOT to do) to master the case interview and unlock the door to your new career.
I look forward to working with you!
Frequently Asked Questions
What if I can't make it to the live sessions? Will you post the recordings?
Yes! We will record and post replays of the Zoom sessions in our CTC Advanced portal. However, to protect your privacy. we will not record the Office Hours Q&A sessions.